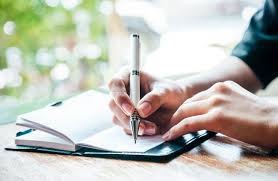 If you have ever wanted to try journaling, this course will provide answers to your every question. You will discover the different types of journaling and many journaling techniques, exercises, tools and resources. You will explore a seven-step process that will ease you into writing a journal. You will get detailed instructions on developing, decorating, and customizing your journal, and you will learn exciting new ways to express yourself and develop your creativity.
You will discover how you can use your journal to explore your thoughts, feelings, and values, and you will learn how to use your journal to support your emotional well-being. You will also understand how journaling can ease the stress of unwanted change throughout the course of your life. You'll even discover how journaling can help you choose the best career for you or advance in your current career.
Duration: 3 Months
Details

Discover the difference between a journal and a diary and identify benefits of journaling
Learn journaling tools, aids and resources
Learn how to journal through chaos, crisis, and change
Learn to express yourself in a creative way
Learn ways journaling can aid you in developing your career

Course Outline

What Is Journaling?
Journaling Tools, Aids, and Resources
Beginning to Journal
Filling Your Journaling Toolbox with Techniques
Art and Journaling
Journaling for Self-Discovery
Journaling for Emotional Well-Being
Journaling and Creativity
Journaling Through Chaos, Crisis, and Change
Journaling Your Dreams
Journaling to Develop Your Career
Evaluating Your Journaling Habit

Requirements

Prerequisites:

There are no prerequisites to take this course.

Requirements:

Hardware Requirements:

This course can be taken on either a PC or Mac.

Software Requirements:

PC: Windows XP or later.
Mac: OS X Snow Leopard 10.6 or later.
Browser: The latest version of Google Chrome or Mozilla Firefox are preferred. Microsoft Edge and Safari are also compatible.
Adobe Flash Player. Click here to download the Flash Player.
Adobe Acrobat Reader. Click here to download the Acrobat Reader.
Software must be installed and fully operational before the course begins.

Other:

Email capabilities and access to a personal email account.
Course Fee: USD 120Now available at Afghanistan, Bangladesh, Bhutan, India, Maldives, Nepal, Pakstan and Sri Lanka