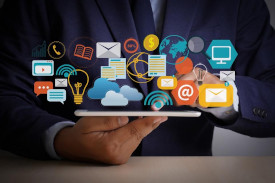 One of the biggest challenges for business owners is finding new customers. Over the past decade, some business owners have leveraged social media to do just that. Whether you're a social media novice or a seasoned veteran, this course will give you a solid foundation in social media marketing and using it to grow your business.
In today's globally connected environment, social media is a game changer for businesses. So, whether you're looking for a new way to market your business or simply want to better understand social media, this online social media marketing course will empower you.
Duration: 3 Months
Details

Describe the basics of online marketing and how Social Media works
Identify the main objectives for using social media in your business.
Select the right social media platform(s) that align with and support the identified business objectives
Demonstrate the ability to setup and configure the five most popular social media platforms.
Develop a process to test, measure, review and continuously improve the effectiveness of your social media efforts.

Course Outline

Developing a Social Media Foundation
Creating Your Social Media Strategy
Building Your Social Media Organization
Crafting High-Quality Content
Facebook
Twitter
LinkedIn
Pinterest
Instagram
Social Media Automation
Social Media and Your Team
Measuring Your Social Media Performance

Requirements

Prerequisites:

There are no prerequisites to take this course.

Requirements:

Hardware Requirements:

This course can be taken on either a PC or Mac.

Software Requirements:

PC: Windows XP or later.
Mac: OS X Snow Leopard 10.6 or later.
Browser: The latest version of Google Chrome or Mozilla Firefox are preferred. Microsoft Edge and Safari are also compatible.
Adobe Flash Player. Click here to download the Flash Player.
Adobe Acrobat Reader. Click here to download the Acrobat Reader.
Software must be installed and fully operational before the course begins.

Other:

Email capabilities and access to a personal email account.
Course Fee: USD 120Now available at Afghanistan, Bangladesh, Bhutan, India, Maldives, Nepal, Pakstan and Sri Lanka