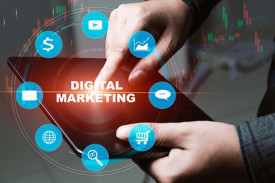 Find out how to market your business on the Internet, even if you have little or no money to spend! In this practical, hands-on course, you'll discover proven methods that will help you establish an Internet presence and build an online brand identity. You'll learn how search engine optimization (SEO) works and how to track your site's performance using web analytics. You will discover how to use online advertising, email marketing, and social media (including blogs) to drive business to your website. Finally, you'll learn how to keep your visitors coming back again and again!
Thro
Duration: 3 Months
Details

Learn the important factors to consider when developing a business website
Discover how to gain and keep customers through an online presence
Examine the factors that build recognition and make a compelling brand identity on the Internet
Learn how to build an online store and exponentially improve the profitability of your business

Course Outline

Businesses on the Web
Web Presence
Domain Names and Search Engines
Website Optimization
The Internet's Impact on the Marketing Mix (4 P's)
Web Analytics
Online Advertising
Email Marketing
Creating Site Stickiness Through Content
Creating Site Stickiness Through Community
Creating Site Stickiness Through Commerce
Completing Your Internet Marketing Plan

Requirements

Prerequisites:

Completion of Designing Effective Websites and Creating Web Pages (or equivalent experience) is helpful but not required.

Requirements:

Hardware Requirements:

This course can be taken on either a PC or Mac.

Software Requirements:

PC: Windows XP or later.
Mac: OS X Snow Leopard 10.6 or later.
Browser: The latest version of Google Chrome or Mozilla Firefox are preferred. Microsoft Edge and Safari are also compatible.
Adobe Flash Player. Click here to download the Flash Player.
Adobe Acrobat Reader. Click here to download the Acrobat Reader.
Software must be installed and fully operational before the course begins.

Other:

Email capabilities and access to a personal email account.
Course Fee: USD 120Now available at Afghanistan, Bangladesh, Bhutan, India, Maldives, Nepal, Pakstan and Sri Lanka